How does one get into winemaking or owning a winery? You don't just throw off your suit and tie, hop on a pony and ride into the Paso Robles sunset. Or do you? Whether a long established dream or a more recent passion, all of these Paso Robles wine movers and shakers have one thing in common: They fell deeply in love with Paso Robles. Allow these true Paso love stories to tug at your heartstrings and—perhaps–inspire you to take a new leap of faith. Just remember: As romantic as these tales are, winemaking takes a lot of hard work!
1. A Second Career – Barr Estate Wines
As native New Orleanians, Tealy and Greg Barr grew up in a culture of great jazz, food, and wine, so their second chapter in life seemed natural. Living in Europe during the 70's and 80's had also enhanced the couples' wine appreciation, and in the 90's, they returned to California and developed a love of California wines. After working for an international company for 30 years, the couple decided to throw caution to the wind, and start a second career dedicated to growing grapes and making great wines that don't break the bank for their customers. After searching for a vineyard, they made their new home in Paso Robles (that was 2007, more than a decade ago). Why Paso? Well, according to the Barr's: "We were drawn to Paso because of the welcoming environment that we experience everywhere. It's a place where neighboring vineyards and wineries are more than willing to help and collaborate and where the vineyard farmer and the winemaker are the same person. This is high on our list of importance since winemaking starts in the vineyard."
Taste the story
Mappings and Directions to Barr Estate Wines
2. Like Father Like Son: Lone Madrone
Since founding the Lone Madrone label in 1996 alongside sister and General Manager Jackie Meisinger, winemaker Neil Collins' goal has been simple: to make distinctive wines exclusively from vineyards tucked away in the rugged limestone hills of westside Paso Robles. Originally from Great Britain, the family is also known for making bone dry hard cider. Today, Lone Madrone's humble tasting list stands at a whopping 26 offerings: everything from 100 percent nebbiolo to a sparkling chenin blanc. Good thing they've got help. The Lone Madrone crew includes Neil's son, Jordan Collins, a rock climber and winemaker who has spent time in Chateauneuf-du-Pape, where he worked the 2014 vintage for Chateau de Beaucastel. The French winery is owned by Lone Madrone neighbor Tablas Creek, where Neil Collins has continued to work as a winemaker for the past 20 years. "Making wines the way we do is not anything new. People have been making wines this way—with minimal human impact, aged in neutral oak barrels or stainless steel, or now we're also using clay amphora—for hundreds of years," Jordan says. "It's about letting the vineyards speak for themselves." Like father like son, no?
Taste the story
Mappings and Directions to Lone Madrone
3. Loving the lifestyle: Oso Libre
In case you're a bit rusty on your Spanish, the Oso Libre Ranch means "Free Bear." Why did the owners choose this name? "This represents our blended family names and The Spirit Of The Early California pioneers," says co-owner Chris Behr. "In 1996, my wife Linda and I purchased 90 acres of raw land here in the acclaimed Adelaida District of Paso Robles. Slowly, we developed our land and turned it into a sustainable, modern working ranch." Son Jeff Freeland and his wife Elizabeth, along with their twin daughters, moved up to Paso Robles in 2007 to help start the family owned and operated business. Together, the family crafted Oso Libre Winery from the ground up (literally). The biz opened October 2009 after many grueling yet rewarding years learning how to grow vines and make wines. The key ingredient to the success of their "Vines, Wines and Angus program." Says Chris: "The secret is that we enjoy what we do and the lifestyle that comes with it."
Taste the story
Mappings and Directions to Oso Libre
4. From Croatia with Love – Tudor Wines
"Every year our grandfather Tudor used to make wine for his friends and family. It's a tradition. The Tudor family has been growing grapes and lavender – and making wine on the Island of Hvar in Croatia – for over 2,000 years," says Dan and Christian Tudor of Tudor Wines. The Tudor family went on to grow grapes in California early in the 1900's and, today, they continue to operate one of the largest table grape vineyards in the country. With an emphasis on selecting family owned fruit and a love of traditional techniques, Tudor wines are a throwback from a more thoughtful time. These classic wines may be from the Monterey and Santa Lucia Highlands AVAs, but the Tudor tasting room is proudly located in downtown Paso Robles. You can still taste that Old World flavor in all their selections, especially their famous pinot noir. As the Tudors like to say, "In an increasing mechanized world, there are still a few handmade products that stand out. Fine wine is one of them."
Taste the story
Mappings and Directions to Tudor Wines
5. Hard Work Pays Off – San Marcos Creek Vineyard
For the Morelli family, owning a winery has been a long held dream. So, in 2013, the whole clan (kids in tow) decided to pack up and moved to San Luis Obispo County to start a new journey. After Roberto Morelli retired in 2014, he and his wife Kimberly set out in search of a vineyard and winery to call their own. In 2015, they found it just North of Paso Robles on Hwy 101—and thus, San Marcos Creek Vineyard was born. Kimberly is known for turning dreams turn into reality, especially when they're shared by her husband and kids. Serving many roles day-to-day, you might find her managing livestock on the farm to dealing with vendors, promotions, new ideas and overall operations of winery. Roberto has taken his love of science and chemistry and funneled them into a new career as a winemaker. On any given day, he may be working on the vineyard or tasting from the barrel. Did I mention they've also got several vacation rentals located on the property? Still, this hardworking family manages to make the whole "owning a winery" thing look fun, despite the amount of toil that goes into every bottle of Cab.
Taste the story
Mappings and Directions to San Marcos Creek Vineyard
---

 This blog was written by Hayley Thomas Cain, food and wine writer for SLO New Times and PasoRoblesWineries.net. You can reach her at hthomas@newtimesslo.com or follow her on instagram @flavorslo.
---
---
Looking for a place to stay in Paso Robles?
The Adelaide Inn is an iconic, lo
cally owned hotel known for its friendly staff and lush landscaping. With spacious rooms and a convenient location close to highway 101 and the event center – home of the California Mid-State Fair – this hotel is a great choice for most travelers.
Directions: speedfind.com/AdelaideInn
Majestically set among vineyards, olive groves and fruit baring orchards, the 20-acre Allegretto Vineyard Resort is a world unto itself, offering breathtaking settings that inspire and bring joy to all who choose this memorable wine country haven. Featuring 171 rooms and suites, on-site spa, grand ballroom, wine tasting room, and inspired culinary creations at Cello, the resort's full service restaurant.
Directions: speedfind.com/Allegretto
La Bellasera Hotel & Suites is an elegant boutique hotel nestled in the heart of Central Coast Wine Country. Influenced by Mediterranean and Italian architecture, the luxurious accommodations reflect the aged sophistication of the Central Coast region and the relaxed nature of the California countryside.
Directions: speedfind.com/LaBellasera
Hampton Inn & Suites Paso Robles is nestled in the Central Coast wine region, home to over 200 wineries, beautiful beaches, mountains and diverse attractions. Relax and revive in a comfortable guest room with all you need for a successful stay. You can count on Hampton to deliver value, consistency and service with a smile. We love having you here®
Directions: speedfind.com/PRWine.HamptonInn
Experience the pristine countryside of Paso Robles Wine Country at Lekai Ranch. Lounge on the porch of your private suite and lose yourself in the tranquility and stunning views of the vineyards and oak studded hills beyond. This vacation rental is located just minutes from some of the most distinguished wineries and a premier olive oil estate, and only 15 minutes from downtown Paso Robles' restaurants, wineries and shopping.
Directions: speedfind.com/Lekai | vrbo.com/701796
Enjoy the elegance, style and natural beauty of California's Central Coast at the JUST Inn®. Surrounded by vineyards, our JUST Inn Suites offer luxurious appointments like fireplaces, Tempur-Pedic®mattresses, Frette linens, hydro-spa tubs, and range in size from 600–1,200 square feet. An overnight stay includes breakfast and a tour of the winery and caves.
Directions:  speedfind.com/JustinWine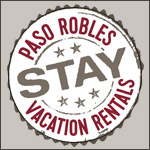 Paso Robles Vacation Rentals, also known as PasoStay.com assists guests in creating memories and wonderful experiences by providing quality privately owned vacation home rentals in Paso Robles Wine Country. With over 90 vacation homes to choose from, small enough for a couple's romantic getaway to large homes amongst local vineyards and olive orchards, PasoStay.com has the perfect option for you. Feel free to call 805-423-9174 to talk with a local expert or book online at PasoStay.com.
Directions:  speedfind.com/PasoRoblesVacationRentals
LEARN MORE