L

ooking for the best California farm-to-table dining experiences? Paso Robles Wine Country serves up farm-fresh flavors paired with world class Paso Robles wines.

Thanks to a long growing season and Mediterranean climate, Paso Robles Wine Country offers up a fertile growing ground for delicious fruits and vegetables, including citrus, heirloom tomatoes and more. Combined with local ranchland and close proximity to the Pacific, find everything from flavorful grass-fed Angus to enticing Morro Bay oysters featured on Paso's prized farm-to-table restaurant menus. Whether you order up a locally-crafted cheese plate drizzled with Paso-grown olive oil or dig directly into a decadent, handmade dessert sprinkled with local mint, Paso Robles Wine Country is all about serving flavors fresher than fresh. Ready to come hungry and come away delighted? From Paso Robles restaurants to wine tasting rooms with robust culinary offerings, try these incredible farm-to-table dining experiences in Paso Robles Wine Country today.
What makes Paso Robles farm-to-table dining different?
The climate: With a mild climate and year-round growing season, Paso Robles Wine Country has become one of California's top farm-to-table dining destinations. Home to a diverse array of farmers, ranchers and artisans, discover farm-to-table fare that pairs perfectly with top tier Paso Robles wine.
The restaurants and tasting rooms: With a dynamic downtown chock full of authentic farm-to-table experiences, discover locally loved eateries and Michelin Star restaurants all within walking distance of downtown Paso Robles wine tasting rooms. You'll even find full service sit-down restaurants located at many Paso Robles wineries tasting rooms throughout the area. This is truly a unique addition to the Paso Robles dining scene, bringing farm-to-table experiences directly to wine tasters.
The wine pairing possibilities: Paso Robles restaurants' wine lists soar above and beyond the status quo, featuring a mix of award-winning local wines and global offerings. With knowledgeable restaurant servers and sommeliers on-hand to help restaurant-goers pick the perfect wine pairing, it's easy to savor distinctive farm-to-table dining that combines the very best of Paso Robles bounty.
---
Imaginative restaurants
Exciting flavors and creative, chef-driven bites
Thomas Hill Organics
A mainstay of California farm-to-table dining, Thomas Hill Organics is widely regarded as one of the first restaurants to put Paso's farm-fresh fare on the map. With a relaxed, eclectic vibe and plenty of indoor and outdoor patio seating, "THO" serves local, creative, organic cuisine paired with unique Central Coast wines. The restaurant's dynamic menus change along with the seasons, and you can always expect an Americana-meets-whimsical meal full of vibrant local flavor.
Serving: Imaginative lunch, dinner and brunch menus starring locally-sourced, organic ingredients; top notch wine list focused on local producers.
Farm-to-fork: What began as an organic CSA (community supported agriculture) program showcasing Central Coast bounty has evolved into the Thomas Hill Organics that discerning eaters know and love today. Thomas Hill Organics continues to serve organic, regionally-produced food, working with California purveyors to source top tier poultry, fish, beef, lamb and exotic meats. From locally-farmed fruits and veggies to breads baked by area artisans, THO puts the "farm" in "farm-to-table."
Thomas Hill Organics
1313 Park St, Paso Robles, CA
Reserve a table
Alchemist's Garden
Dine: Combining locally-sourced, plant-based meals alongside meaty morsels, Alchemist's Garden allows downtown Paso Robles diners to graze happily. Local ingredients get a storybook spin on a fanciful menu where bone marrow, fresh seafood and verdant cocktails collide. Offering up a global fusion of entrees and small plates, this culinary adventure is truly "choose-your-own." Plus: "The Remedy," a small ten-seat lounge, is tucked away within the restaurant and well-worth a reservation. While you'll find no food service within this moody oasis, savor cocktails swimming with local herbs and botanicals.
Serving: global fusion-inspired dinners; garden-fresh and zodiac-inspired cocktails; small plates; extensive list of spirits including unique whiskeys, absinthe and more.
Alchemist's Garden
1144 Pine St, Paso Robles, CA
Reserve a table
---
French-inspired restaurants
A twist on classic Old World culinary charm
BL Brasserie
Dine: Formerly Bistro Laurent, BL Brasserie serves traditional French brasserie-style fare utilizing local ingredients and classic, French recipes. Of course, all this deliciousness pairs perfectly with both local and French wines, creating a harmonious Paris-to-Paso connection. Enjoy the casual-yet-elegant atmosphere of this time-honored downtown restaurant. Here, you can easily share a charcuterie board or escargots in the shell as well as a hot croque monsieur with pomme frites. Mangez bien, riez souvent, aimez beaucoup! (Translation: Eat well, laugh often, love a lot).
Serving: French-inspired lunch and dinner offerings, including traditional favorites like steak tartare, filet mignon and French desserts; extensive European and local wine list with several French champagne offerings.
Farm-to-fork: Borrowing inspiration from fine French chefs, BL Brasserie always considers fresh, local ingredients when curating its regionally-ripe menu.
BL Brasserie
1202 Pine St, Paso Robles, CA
Reserve a table
---
Mexican & South American-Inspired restaurants
Bold, beautiful plates with zest to spare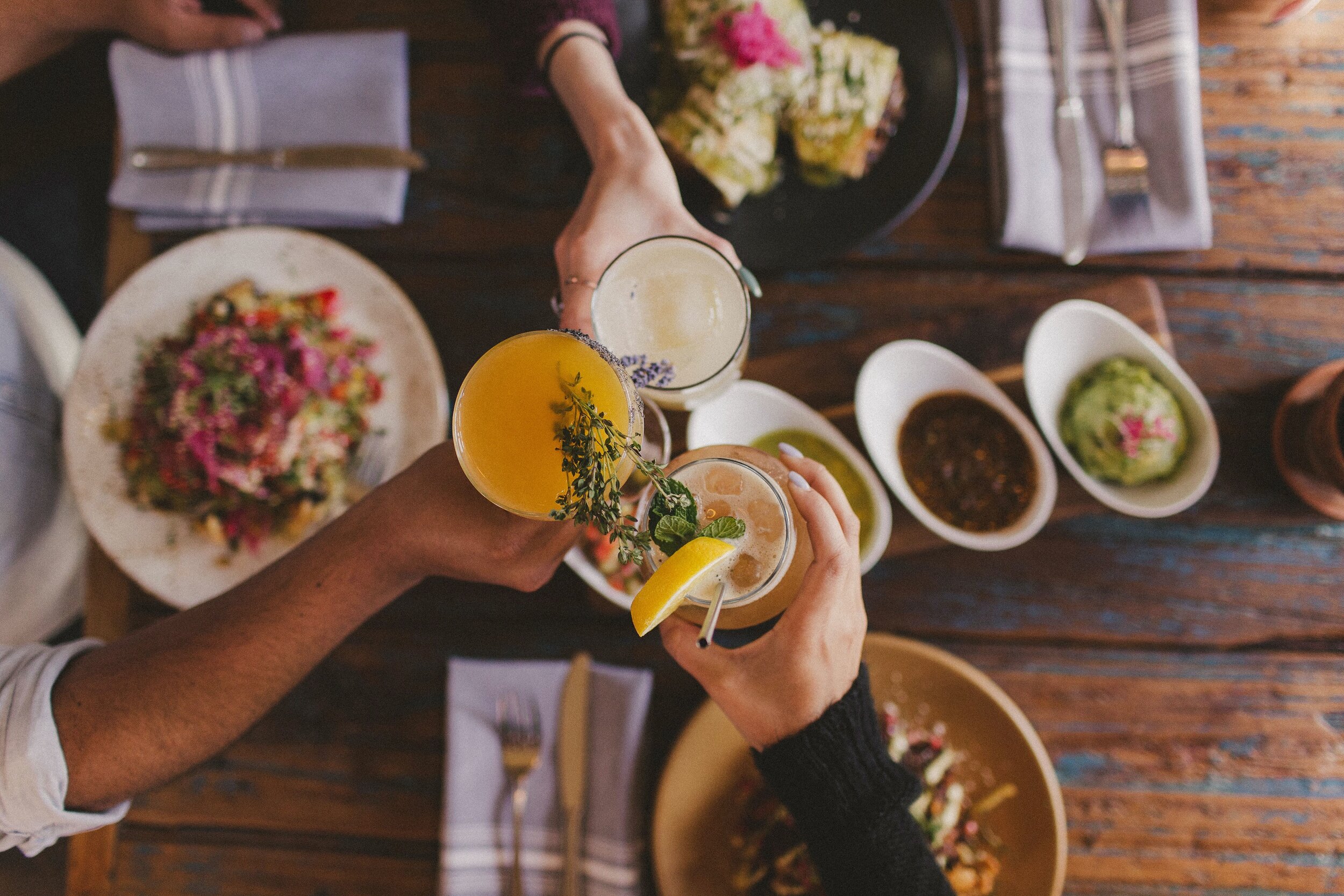 Dine: Modern Mexican vibes and an extensive tequila list come together to create a refreshing farm-to-table experience in downtown Paso Robles—with a fiery kick. Indoor and outdoor seating is perfect for a celebratory group or date night, depending on the mood. From fish tacos laden with flavorful local produce to savory enchiladas topped with heavenly guac, taste Paso Robles fare with a Baja twist.
Serving: Baja-inspired dinners and lunches; extensive tequila and mezcal offerings; Mexican and craft beer; creative cocktails.
Farm-to fork: Fish Gaucho is committed to sourcing the freshest seafood, shellfish, local produce, organic meats and ingredients courtesy of local farmers, ranchers and fishermen.
Fish Gaucho
1244 Park St, Paso Robles, CA
Reserve a table
FINCA Paso Robles
Dine: Located within the bustling Paso Market Walk, FINCA Paso Robles is a casual, family-owned restaurant serving wood-grilled meats and seafood, including steaks and octopus. Inspired by the traditional flavors of Baja and Sonora, local ingredients are favored here (try them tucked inside the menu's mouthwatering salads, tacos and burritos). Craving crispy house made tortilla chips or a slice of silken flan? No reservations required.
Serving: Baja-inspired lunch and dinner offerings featuring oak-grilled carne asada; shared plates; fresh salsas; Mexican favorites like ceviche and chile verde.
Farm-to-fork: FINCA was founded on the idea of highlighting fresh and local ingredients as well as giving back to the Paso Robles community. The FINCA menu features regional produce and products whenever possible.
FINCA Paso Robles
1803 Spring St Suite A, Paso Robles
Order online
La Cosecha Bar + Restaurant
Dine: La Cosecha serves sizzlingly authentic South American and Spanish cuisine. Combining creative stone-fired pizzas, fresh seafood and an inspired mixology program, you'll soon discover that variety is the spice of life. Pair your La Coescha meal with pisco from Peru, cachaça from Brazil or local and international wines—your choice.
Serving: Seasonal brunch, lunch and dinner offerings featuring flavors from Spain to Latin America; artisanal cocktails, extensive wine list.
Farm-to-Fork: Spanish for "theharvest," La Cosecha's Chef Santos takes great care to craft meals brimming with the freshest ingredients sourced from local Central Coast purveyors.
La Cosecha Bar + Restaurant
835 12th St, Paso Robles, CA
Reserve a table
---
Italian-inspired restaurants
Celebrating the artisanal spirit of Italy, one bite at a time
Il Cortile Ristorante
Dine: A charming ambiance and rustic Italian menu makes Il Cortile Ristorante a top choice for hungry romantics. Seasonal ingredients run the show here, with chef-driven dishes revolving around what's ripe now. Chow down on a range of exceptional homemade pasta, fresh seafood, top-quality meats and more. Be sure to ask about the enticing mozzarella offerings, lovely when paired alongside Il Cortile's exquisite wine list.
Serving: Contemporary rustic Italian dinners with seasonal ingredients; fine wines; espresso drinks.
Farm-to-fork: At Il Cortile, menus feature peak season and local ingredients whenever available. In addition, pastas and sauces are house made and crafted to compliment one another–a nice artisanal touch.
Il Cortile Ristorante
608 12th St #101, Paso Robles, CA
Reserve a table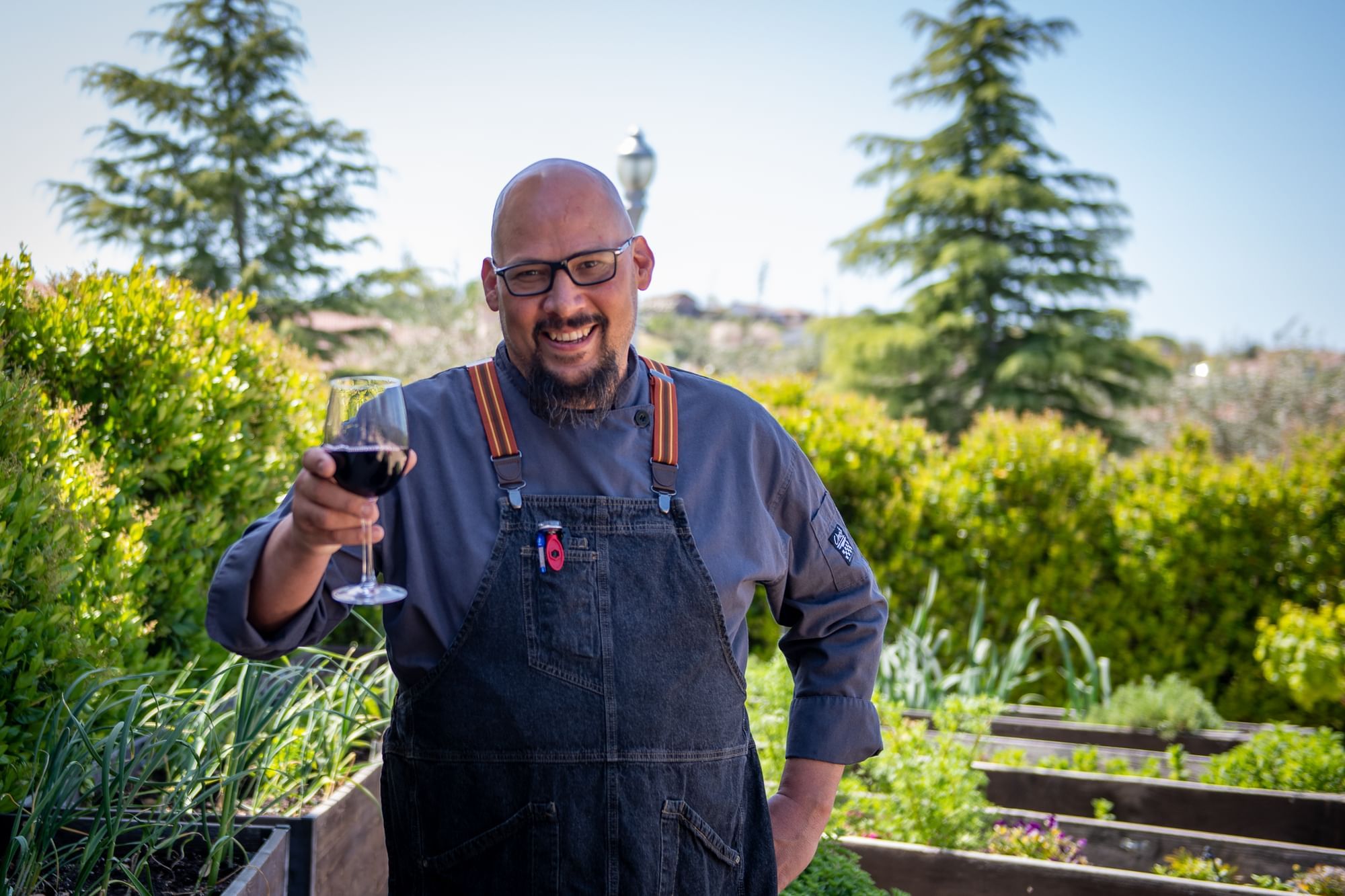 Dine: With a keen eye on the best local ingredients, Cello at Allegretto Vineyard Resort marries Central Coast and Italian flavors seamlessly. Beyond the Mediterranean-inspired dining room, doors open onto a vast patio dining area complete with iron fire bowls and bocce ball courts. From locally-sourced salumi to pizzas topped with fresh regional produce, this breezy culinary experience is as irresistible as a Paso Robles sunset.
Serving: Breakfast, lunch and dinner offerings with a Paso-Italian twist; local and international wines; garden-inspired cocktails; shareable plates; menus created specifically for children and pets.
Farm-to-fork: Cello menus spotlight fresh ingredients and artisan flavors, celebrating farmers, ranchers and fisherman of the Central Coast region.
Cello Ristorante & Bar
2700 Buena Vista Dr #102, Paso Robles
Reserve a table
---
Want to explore the best wineries, discover new wines & delightful dining experiences?
Let's face it, planning a trip to wine country is exciting but can also be a bit daunting. Why? Paso Robles alone boasts over 300 wineries, each offering a unique blend of wines, tasting experiences, and beautiful vistas.
With so many vineyards to choose from, the choices are endless and the fear of missing out on that perfect wine or that unforgettable view is real.
Take the stress out of planning.
We've crafted something just for you to make it easy, rewarding, and also a little less expensive.
Ready to make your Paso Robles experience truly unforgettable? Click the button below to grab your tailored Digital Itinerary and start your wine adventure like a pro!
👇 Get Your Digital Itinerary Now
Special Bonus: As an introductory promotion, we're excited to offer you a massive 50% discount! Use the code FRIENDS50 at checkout. But hurry, this offer won't last long!
---
Michelin Star and Guide Restaurants
Savor soaring culinary craftsmanship with Paso Robles Michelin Star restaurants
Six Test Kitchen
Michelin Star Dining: Hidden away in Paso's industrial-chic Tin City, Six Test Kitchen is a foodie's ultimate find. Break bread with a handful of lucky eaters gathered at a beautiful wood counter facing Chef Ricky Odbert's gleaming kitchen (this is where all the magic happens). Journey through a maniacal menu where hyper-local ingredients are transformed into innovative art. From start to finish, find each exquisite, compact bite more mind-bending as the last. Needless to say, each plate is pretty as a picture.
Serving: Ever-changing, seasonal multi-course tasting menus (dinner only); minimal wine list focusing exclusively on boutique producers.
Farm to fork: Inventive bites alchemize everything from seafood to ripe local produce into a new beast of flavor. Find a mighty, Paso-centric point-of-view in each small Six Test Kitchen plate.
Six Test Kitchen
3075 Blue Rock Rd Unit B, Paso Robles, CA
Reserve a table
In Bloom
Enter this quirky-yet-elegant Paso Robles eatery for a taste of the unexpected: Ever-changing farm-fresh dishes are made swankier with the addition of vinyl records spinning on the turntable. From apps to entree, you might find caviar, edible flowers, locally-sourced proteins and seasonal veggies so flavorful you'd swear they were picked yesterday (they might have been).
Serving: Creative, chef-driven dinners with unique farm-to-table flare; six-course tasting menus; local and global wines; unique craft cocktails.
Farm-to-fork: In Bloom works with local and regional farmers and purveyors, including Mt. Olive Farms, Bautista Farms, Mighty Cap Mushrooms, Babe Farms, Sierra Honey Farms, Good Witch Farms, 43 Ranch Olive Oil, Chavez Farms, Big Sur Seasalt, Regier Family Farms, Rocking Chair Farms, Halfmoon Bay Wasabi and Campbell Ranch.
In Bloom Paso Robles
1845 Spring St, Paso Robles, CA
Reserve a table
Hatch Rotisserie & Bar
With a cozy, red brick ambiance and elevated comfort food staples, Hatch Rotisserie & Bar is a fine dining joint that aims to please. Serving up their signature brined and smoked half chickens, hot skillet cornbread and legendary fermented Hatch hot sauce, enjoy local wines alongside an epic feast or grab a creative cocktail from the bar.
Serving: Wood-fire smoked rotisserie chicken; Southern-inspired dishes with all the fixings; craft cocktails and local wines.
Farm-to-fork: The Hatch's comfort food menu is refreshed seasonally to ensure peak flavors are always the star. Plus, you'll always find a range of local pickled vegetables on the menu, adding the perfect tangy accompaniment to buttermilk-dipped chicken skin.
Hatch Rotisserie & Bar
835 13th St, Paso Robles, CA
Reserve a table
The Restaurant at JUSTIN
Michelin Star Dining: JUSTIN winery's artfully designed restaurant offers up high-end dishes that reflect peak-season perfection paired with thoughtful presentation. With an intimate wine country dining area and attentive staff, prepare to be guided through a local epicurean wonderland from chef's garden to plate. Pair a seasonal multi course dinner with renowned JUSTIN wines or select from an award-winning wine list.
Serving: Elegant prix fixe dinners; multi-course dinners with paired wine tastings that change with the seasons; award-winning wine list.
Farm-to-fork: The menu primarily features locally-sourced fare, with 95 percent of all ingredients sourced from the winery's 26-acre Estate Garden (this includes a 150-tree orchard, edible flower fields, vegetables, herbs and an apiary). Central Coast area purveyors round out the offerings.
The Restaurant at JUSTIN
1680 Chimney Rock Rd, Paso Robles, CA
Reserve a table
Les Petites Canailles
Dubbed "LPC" by local winemakers, this no-fuss Fresh-inspired farm-to-table bistro focuses on Central Coast ingredients served with simple grace. Relax in a modern-yet-casual dining area and dig into a menu that truly evolves with the seasons. As you might expect, dessert is a must, featuring handmade French treats like creme brulee and chocolate mousse on the daily. Far from pretentious, you can even "buy a round of beer" for the bar upon request.
Serving: France-meets-Paso dinners paired with an award-winning wine list; nightly chef-driven five-course tasting menus; French-inspired desserts.
Farm-to-fork: Locally loved by Paso Robles winemakers in the know, Les Petites Canailles (translated: "The Little Scoundrels"), combines Central Coast ingredients with fine French cooking technique.
Les Petites Canailles
1215 Spring St, Paso Robles, CA
Reserve a table
---
Taste fall bounty at Paso Robles Farmer's Market
Ready to taste farm-to-table flavors direct from the source? If you're looking to deepen your connection to Paso Robles farmers, ranchers and artisans, head to Paso Robles' celebrated farmer's market.
Held each Tuesday from 9:30 to noon at Paso Robles Downtown City Park, find ripe produce, local meats, herbs, baked goods, cheeses, fresh-cut flowers and more. Not only will you meet the hardworking folks behind these tasty offerings—you'll likely rub elbows with Paso Robles chefs, too. After all, the farmer's market is where many area foodies gather to explore peak season inspiration! From juicy summer stonefruit to exquisite fall heirloom tomatoes, Paso Robles farmer's markets showcase the bounty of wine country all in one leisurely stroll.
Paso Robles Fall produce wine pairings
Apples: Try a crisp, refreshing white wine like chardonnay or a sparkling wine like Champagne, which complements the fruity and slightly tart flavors of apples.
Pears: Opt for a medium-bodied white wine such as pinot grigio or sauvignon blanc, which complements the sweet and juicy nature of pears.
Persimmons: A light, aromatic white wine like viognier or a sweeter option like riesling can complement the honeyed and slightly spicy notes of persimmons.
Pomegranates: Choose a red wine with good acidity like pinot noir or a dry rosé, which can balance the tartness and vibrant flavors of pomegranates.
Figs: Figs pair wonderfully with sweet, fortified wines like port or dessert wines like late harvest riesling.
Pumpkins and Squash: Consider a full-bodied white wine such as oaked chardonnay or a light red like pinot noir to match the earthy and subtly sweet flavors of these vegetables.
Brussels Sprouts: A crisp, unoaked white wine like sauvignon blanc or a light red like grenache can complement the nutty and slightly bitter taste of Brussels sprouts.
Leafy Greens: Pair leafy greens with a crisp and zesty white wine like sauvignon blanc or a light, citrusy tempranillo.
Cauliflower and Broccoli: Opt for a chardonnay with moderate oak aging or a light red like merlot to complement the mild flavors of these vegetables.
Sweet Potatoes: A rich, full-bodied white wine such as oaked chardonnay or a spicy, fruity zinfandel can enhance the sweet and savory notes of sweet potatoes.
Walnuts: Enjoy walnuts with a nutty and slightly sweet sherry wine or a robust red wine like cabernet sauvignon.
Herbs: The choice of wine depends on the dish's overall flavor profile. For herb-forward dishes, consider a crisp white, while for dishes with earthy herbs like rosemary and thyme, a red wine like syrah or cabernet sauvignon can work well.
Heirloom Tomatoes: These tomatoes are known for their vibrant, full-bodied flavors. Pair them with a crisp and refreshing white wine or an herbaceous and mineral-driven wine like albariño.
---
Paso Robles farm-to-table dining FAQ
Q: What is farm-to-table dining?
A: Farm-to-table dining is a culinary concept that emphasizes using locally sourced, fresh ingredients from nearby farms and producers. It promotes sustainability, supports local agriculture, and offers a unique dining experience.
Q: Are there farm-to-table restaurants in Paso Robles, CA?
A: Yes, Paso Robles is known for its vibrant farm-to-table dining scene. Many restaurants in the area take pride in showcasing locally grown and seasonal ingredients.
Q: How can I find farm-to-table restaurants in Paso Robles?
You can easily find farm-to-table restaurants in Paso Robles by searching online, using apps like Yelp or TripAdvisor, or by asking locals for recommendations. Look for restaurants that highlight their commitment to using local ingredients on their websites.
Q: What types of dishes can I expect at farm-to-table restaurants in Paso Robles?
A: Farm-to-table menus vary, but you can expect a diverse range of dishes featuring fresh produce, meats, and dairy products sourced from local farms. Menus often change with the seasons, so you'll enjoy the best of what Paso Robles has to offer year-round.
Q: Is it necessary to make reservations at farm-to-table restaurants?
A: It's a good idea to make reservations, especially if you plan to dine during peak hours or at popular farm-to-table establishments. Reservations ensure you have a table and allow the restaurant to prepare for your visit.
Q: Do farm-to-table restaurants accommodate dietary restrictions?
A: Yes, many farm-to-table restaurants in Paso Robles are accommodating when it comes to dietary restrictions. They often provide vegetarian, vegan, and gluten-free options. It's a good practice to inform the restaurant of your dietary needs when making a reservation.
Q: Are farm tours or visits to local farms available in Paso Robles?
A: Yes, some farm-to-table restaurants in Paso Robles may offer farm tours or collaborate with local farms for special events. Check with the restaurant or inquire about farm tours when dining.
Q: Can I bring my own wine to farm-to-table restaurants in Paso Robles?
A: Some farm-to-table restaurants allow corkage, but it's best to check their policy beforehand. Paso Robles is also famous for its local wineries, so you may want to explore their wine offerings.
Q: What's the best season to experience farm-to-table dining in Paso Robles?
A: Paso Robles enjoys a Mediterranean climate, making it a year-round destination for farm-to-table dining. However, late spring through early fall offers the most abundant selection of fresh, seasonal ingredients.
Cover Photo by Edward Howell on Unsplash
LEARN MORE